Inspiring Charitable Giving From the Heart
For those of us attending charity events around the San Francisco Bay Area, a fundraiser is always memorable when the affable Liam Mayclem steps forward as the live auctioneer. He's entertaining, polished, debonair, and gifted at storytelling, talents that combine to produce meaningful results from exceptionally generous supporters.
Liam's affinity for his adopted city runs deep, and we're all the richer for the special place he's found in his heart for this appreciative community. It's a win-win-win.
HL: You're known as a broadcast reporter, KCBS Foodie Chap, and you serve as emcee for events like Stern Grove Festival and BottleRock Napa Valley. How did you become an auctioneer?
LM: My career as an auctioneer began one fateful night 15 years ago when I was called in to sub for another auctioneer who had suffered a heart attack. I was the emcee, but was quickly nudged into this role. Two bits of good fortune followed: the auctioneer survived his heart attack and my new purpose, a mission and a career as an auctioneer, was born. I have not looked back.
HL: What are some of your favorite charity events and why?
LM: At the core of my work is my heart's connection as a champion for each charitable cause I represent. I was a foster kid myself growing up in England and Ireland, so I do many auctions for CASA/GAL Association for Children nonprofits all around the Bay Area and beyond. As a foster child myself, the mission of nonprofits such as Raphael House, the city's first and largest family homeless shelter, have been particularly important to me. And because I tragically lost my mom to suicide, fundraising for suicide prevention has been important to me for moments when I can connect my heart and share part of my story onstage prior to the auction.
I know my personal experiences move the needle; this authentically resonates with the audience and inspires giving.
HL: We can't help but wonder: what happened with charitable fundraising efforts during the height of the pandemic?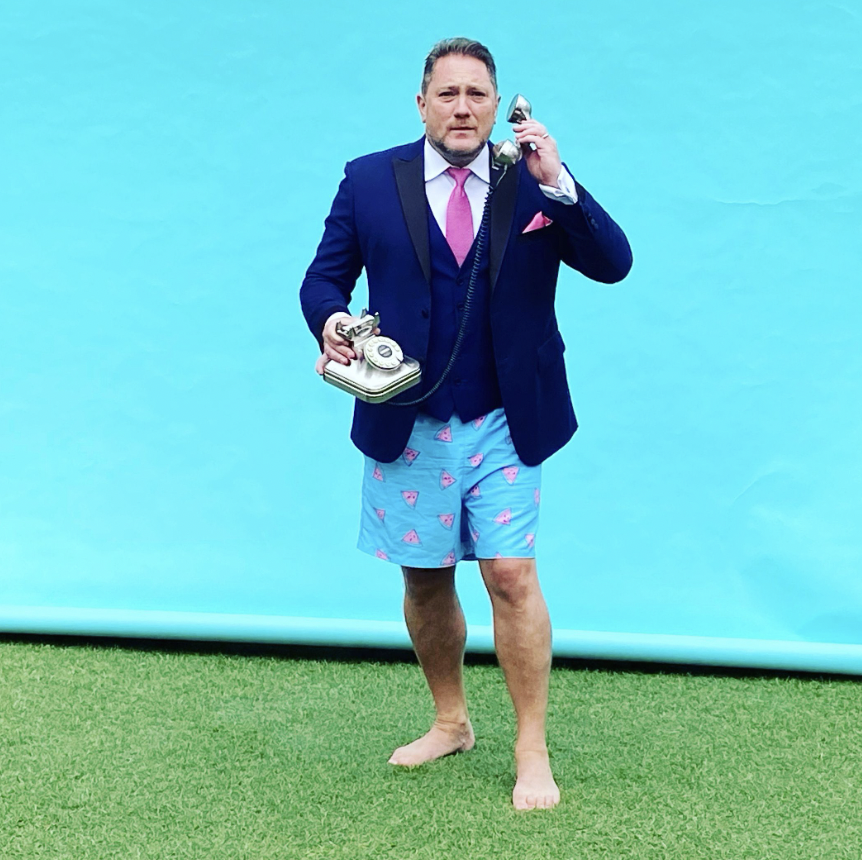 LM: The pandemic offered me a new opportunity to work with my nonprofit partners, engage with their communities and do fundraising in new and creative ways. As things quickly went south in March of 2020, I knew I had to create a way to stay employed, but also keep my nonprofits afloat and so the "virtual" auction and gala was born. My 30 years in television found new purpose hosting an event from the end of my bed, looking into the camera of my laptop, tuxedo jacket on top, deck shorts on bottom. I was literally operating from the seat of my "short" pants.
HL: Very resourceful. How did that go?
LM: I would find myself doing two, maybe three, events in one night in 30-minute fundraising segments: an East Coast event at 5 p.m., an LA nonprofit at 6 p.m., and perhaps a San Francisco school event at 7 p.m.
While the "P-word" was in full play, we pivoted quickly and still managed to raise enormous amounts of money. In fact, we had a million dollar night for SF CASA for foster youth. Then came another winning night, this time for Family House. And with the help of the band, Train, we put on a virtual studio production and concert and that also raised more than $1 million with donations coming in big and small from across the country. I was living my best Jerry "Mr. Telethon" Lewis life.
Of course, the pandemic was challenging, but once again the hearts of people in the Bay Area left me speechless. People logged on, raised their virtual paddles, and gave big! I am wickedly happy that events are back and we are together in person once again on the giving train.
HL: Busy man! How many charity events do you take on?
LM: I conduct 50-plus auctions a year. Mostly, they're in the Bay Area, but I have also worked in Los Angeles for Children's Institute, London for the Epic Foundation, and as far away as Bali, raising funds for the Green School.
I am constantly surprised by the enormous philanthropic efforts here in the San Francisco Bay Area. Even in challenging times, like a pandemic or a wobbly economy, the community continues to show up, raise their paddles, and give in audacious ways. So many generous hearts here in the Bay … the generosity often floors me. And personally, it never gets old being a conduit through which people give. I feel so incredibly blessed to have this second career in the nonprofit space, the giving space, and my heart is richer for it.
HL: Storytelling time—can you share any standout moments from your fundraising efforts that gave you the chills?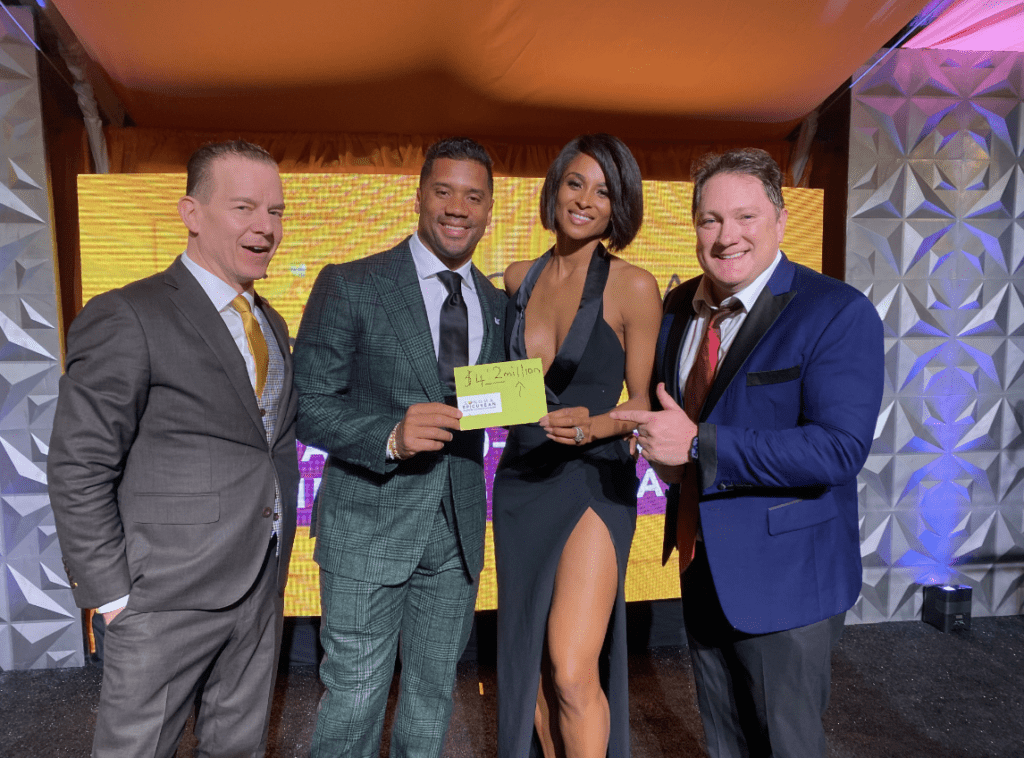 LM: Among my career highlights as an auctioneer, I recall standing alongside NFL player Russell Wilson and wife, Ciara, and raising an incredible $4.2 million for the V Foundation. We sold a dinner with Russel and Ciara at that auction for a quarter of a million and then we doubled it, raising half a million for two special VIP dinners.

At another auction, I sold a food tour with me as KCBS Foodie Chap for Make-A-Wish Foundation for the staggering amount of $100,000. That was also a highlight. Just think of all the wishes granted with just that one auction lot! Doing an auction in my hometown of Westminster, London in 2019 was also a highlight. My brother, Rory, was in the room as I dedicated the evening to our mum, Maureen, who had passed away in 1998.

HL: What's your secret sauce?

LM: Bringing heart and humor to every event and connecting every single person in the room more deeply to the mission and purpose of the cause or nonprofit.

When it's showtime, I don't work from a script. I work from the heart with a mission and purpose to ignite the giving spirit within everyone, every single person in the room. Joyfully, I succeed most nights.

It's about more than a 45-minute live auction. For each and every event, this job requires months of planning and counseling with the nonprofits with which I work. For them, that one night is the most important night of their year, raising critical funds. So, I have to bring it all—meet their goals and deliver 200 percent! Thankfully I do, and 99 percent of the time I get invited back.

I have many clients to whom I can happily say, "We have been partners for more than a decade." These relationships matter deeply, along with the boost I can provide helping nonprofits win by inspiring audacious giving.





v

Posted by Olivia Decker on