Napa's Lighted Art Festival
Art after dark
It had been a while since I casually meandered through the streets of Napa. On that particular afternoon, the streets were crowded and festive with an infectious electric energy. It was the eve before the Chinese New Year. Street performers, drum troupes, and traditional Chinese dragons banged to the beat to celebrating the upcoming new Year of the Rabbit, symbolizing wisdom, power, and wealth. One couldn't help but feed off the energy in the crowd.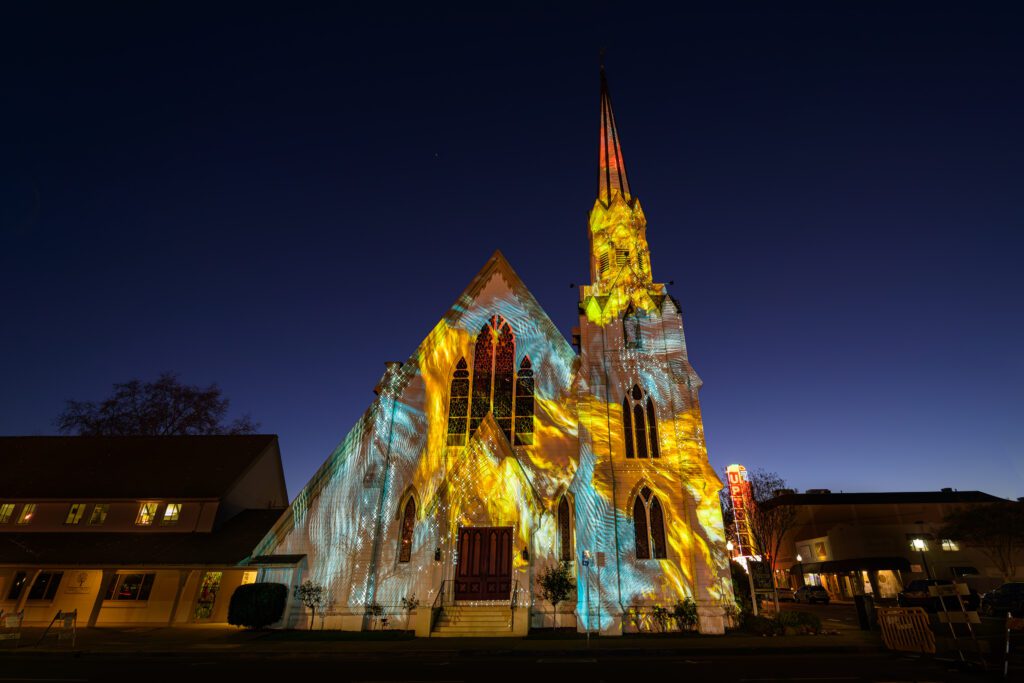 Restaurants overflowed with customers, and the evening was crisp and cool. Thankful for the break in the weather, locals and visitors alike took to the streets in hopeful anticipation of what was to come. However, it wasn't only the anticipation of good luck in the upcoming new year that brought everyone to town, it was also the annual Napa Lighted Art Festival, where artists from all over the world create 10 art installations using the town's quaint buildings, historical sites, and walkways as a canvas to display their work. Each artist created their own vision of light. Perhaps, as Maya Angelou said, "Nothing can dim the light that shines within," because each custom light work displayed light from its inner soul.
The evening started at Arena where proprietor Michael Polenske and Julie Henry welcomed and introduced the artists who thoughtfully walked us through their visions behind their creations. Prior to viewing each exhibit, artists like Jacques Lesec described the creation of Poppy and Dahlia as the "reconceptualization of organic form." Each floral ornament, large in scale, created illusions of effervescent light, glass, and an ethereal vision of delicate petals. Guests of all ages were mesmerized by the LED lights designed in petal form. As the reception came to a close, guests were encouraged to wander the Napa's streets and be guided by the light for Art After Dark.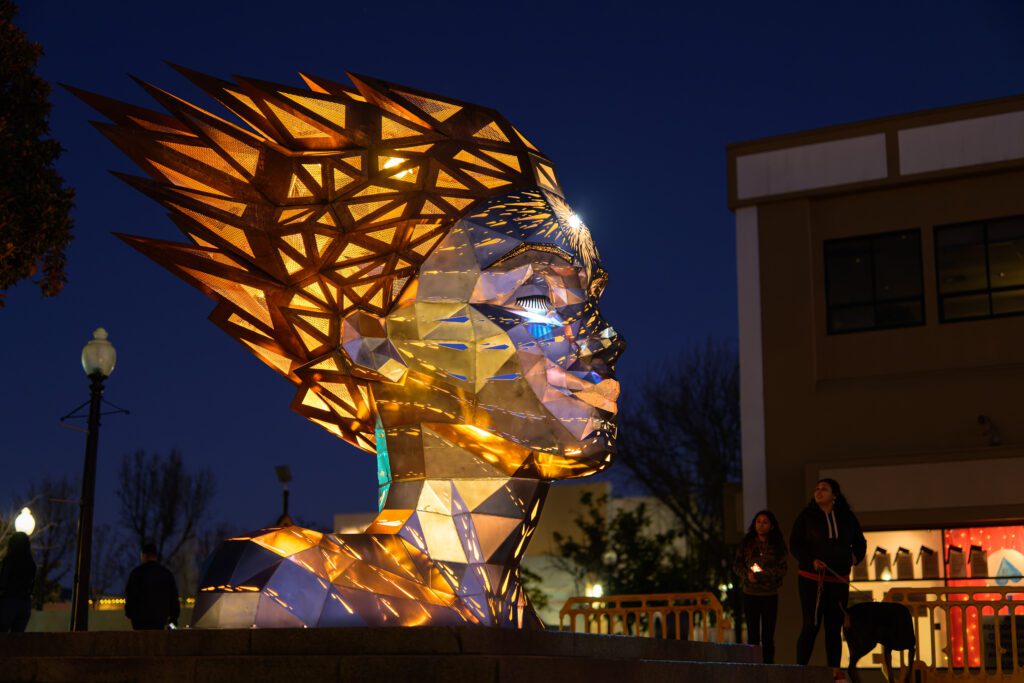 Covering the façade of Napa's First Presbyterian Church, a team from Catania, Italy, mammasONica's design group presented a feast of vision and sound resulting in a stimulating light show that kept even the youngest audience members engaged. Named Hands of Time, the audiovisual presentation was described as "a journey into the phases of our existence, from birth to adulthood, celebrating the circle of life for a mysterious and positive message."
Adjacent to Goodman Library stood Luminescence, a human form envisioned by the international design duo of Jason Myers and Scott Young and created by using recycled scrap steal from salvaged building materials. The team added neon lighting to create an impactful narrative. The subject, as described, is "a solitary figure weathered and worn, but bright and still standing strong." The piece is a symbol for all who struggle with real life problems and situations: it isn't how these problems affect you, it's about how you deal with them.
As the evening progressed and for weeks to come, the art installations led town revelers and guests to follow the lights in pursuit of deeper inspiration. As I walked through the streets, I was awed by the intensity of each installation and its illumination. The significance of each work of art was inspiring in its meaning and intensity of light and how it was used and displayed.

Executed and designed by an international consortium of artists, the festival's aura of light that can be visibly seen for blocks. The show's most prominent piece, Seed of Dreams, was a 13-foot tall sculpture of a human head with its eyes closed in what the artist described as a "deep trance or dream state." Located in Dwight Murray Plaza and designed by local Cal Berkeley alum Martin Taylor, the masterful combination of modern and metal aesthetics created a multi-dimensional face. A conglomerate of mirrored origami pieces designed in metal were assembled to resemble its paper counterpart.

Napa's Art After Dark was a positively enlightening experience.

Posted by Olivia Decker on