Majestic San Francisco Mansion
IN 2005, Ken Paige Fell In Love With The grand foyer with a magnificent curving marble staircase and an epic Tiffany dome crowning the dramatic space. So, he bought the home. Although the entrance was incredibly exquisite, the rest of the house was a 30 bedroom boarding homes in total disrepair. Paige set out to restore this spacious mansion to regain its original glory and prestige that the home so richly deserved. The love and care he put into the renovation transformed it into Alma Spreckels' original vision of grace and beauty. Paige wanted to make it "fit for a Queen."
He demolished nearly every-thing, replacing and upgrading every detail. He installed steel structural beams, all new plumbing, electrical, heating, fireplaces, windows/doors, flooring, and ceilings while maintaining the original character. He kept the bronze railings with their Romanian eagles' crest and added a extraordinary roof terrace. He also extended the elevator from the garage floor to all levels, including the roof terrace.
With all this renovation, the City of San Francisco Building Department required him to seismic retrofit and add sprinklers to the entire house. The tremendous amount of structural steel beams are concealed behind ornate cornices so that they don't show.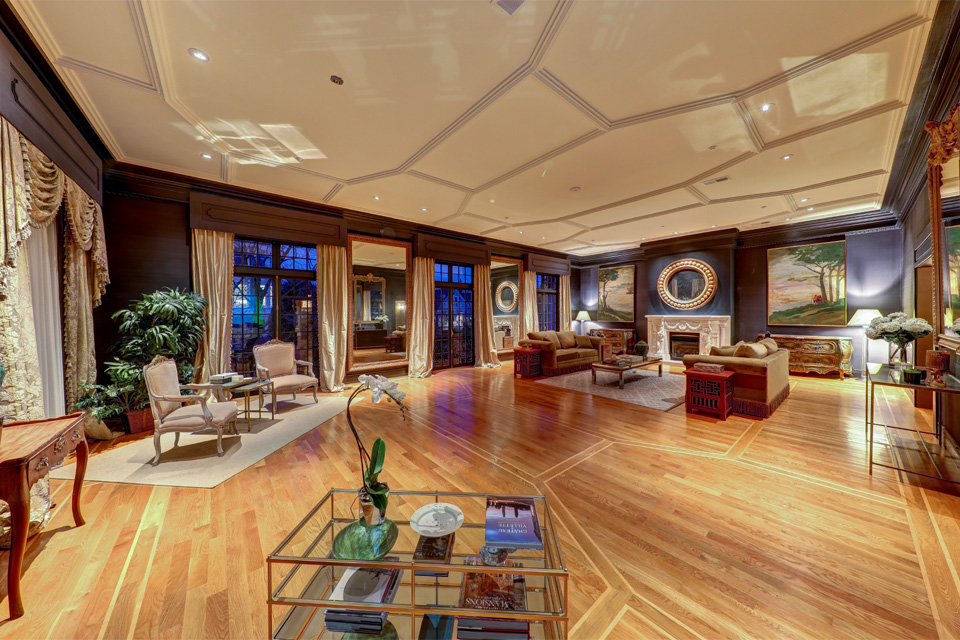 The well-appointed kitchen is equipped with high-tech appliances and thoughtful workspaces ready for cozy meals with your family or media-worthy din-ner parties. You can also enjoy the enormous roof deck complete with a 20-foot stainless steel kitch-en/BBQ/bar area with views of the entire Golden Gate Bridge and Alcatraz Island. The Paige family has enjoyed this home for 14 years, hosting many large and small parties and charity events.
The house has always been a happy and festive place for the family and grandchildren get-togethers. This stunning Italianate mansion enjoys pano-ramic views of the Golden Gate Bridge, San Fran-cisco Bay, Palace of Fine Arts, Alcatraz Island, Marin Headlands, Fort Mason, Russian Hill, Coit Tower, City skyline and the East Bay hills. Exquisite archi-tectural detailing is found throughout, including the spectacular grand formal foyer, the white marbl curving staircase, seven en-suite bedrooms, eight full bathrooms,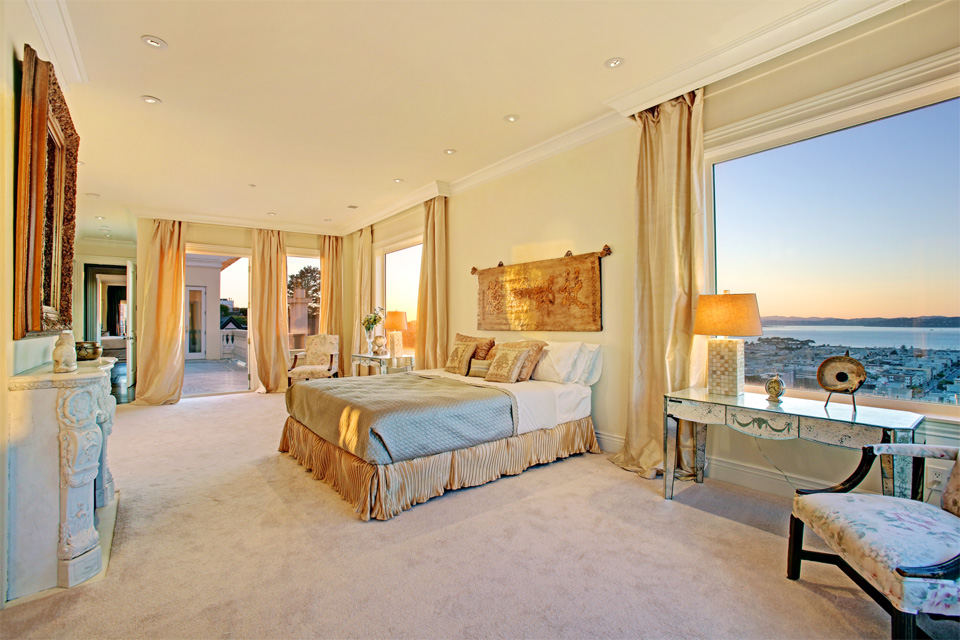 and three half bathrooms, formal living room, formal dining room, reception hall, grand foyer, mezzanine, library, fireplaces, eat-in kitchen, media room, family room, wine room, au-pair quarters with kitchen, gym, four marble terraces, six cast bronze balconies, garden with irrigation, gated driveway with parking plus three-car garage, elevator, security system with cameras, two laundry facilities, and is wired for Wi-Fi, automatic drapery, and Lutron light-ing throughout.
Walking distance to Union, Chestnut and Fillmore Streets, shopping district, prestigious schools, transportation, and easy access to the Gold-en Gate Bridge and downtown San Francisco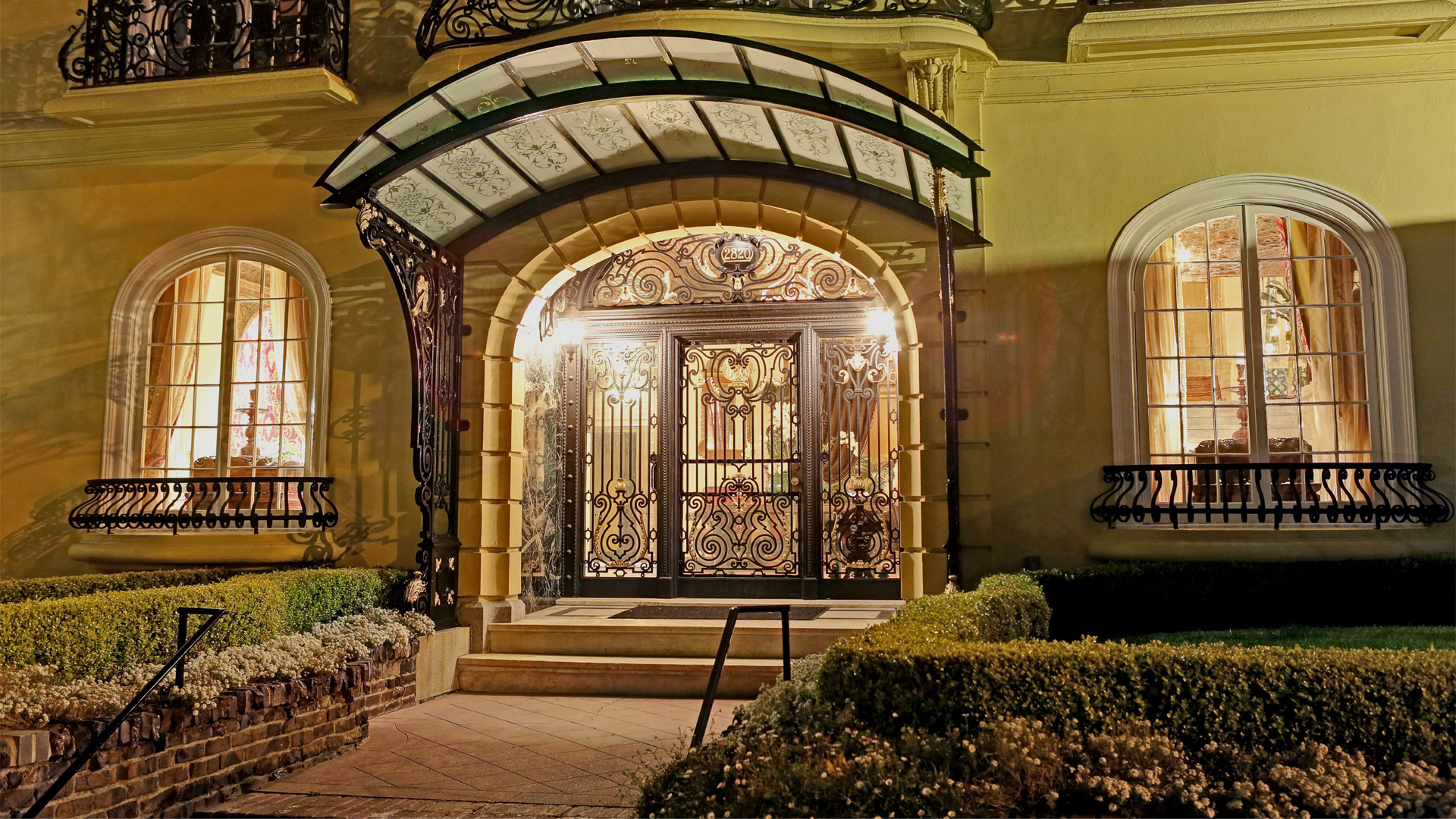 Designed and built in 1905 by James A. Mc-Cullough, this majestic Italianate villa of approxi-mately 17,000 square feet has been fully renovat-ed from the bottom floor to the rooftop terrace using the finest materials and craftsmanship to create the ultimate modern amenities and luxu-ry living. Still, it retains the elegance and beauty of the classic era. This magnificent home was the entertainment house of Maude and Walker Graves, and their friend Alma Spreckles. It is said that the house, as evidenced by the Roma-nian eagle crests on all the bronze railings and dining room fireplace, was remodeled for Alma Spreckels's anticipation of Marie, Queen of Ro-mania, as house guest during the 1915 Panama Pacific Exposition in San Francisco. Scott Street was the main gateway to the Exhibition and had the best view of the Tower of Jewels as well as the Palace of Fine Arts. The amazing European designs, finest craftsmanship and top quality materials are impossible to duplicate to-day. The home was fully renovated from 2005 and 2008, including structural steel beams, all systems, rooms, kitchens, baths, and modern technology. It was selected as the prestigious San Francisco Decorator Showcase in 2008. For more photos and information,

please visit: www.SanFranciscoShowcase2008.com Offered at $21,000,000

Posted by Olivia Decker on